Eric Hartman - 2/29/16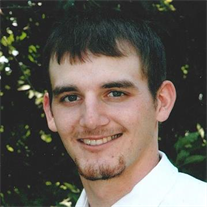 Eric Edward Hartman, 30, of rural Bloomfield, Iowa died February 29, 2016 at his home. He was born July 31, 1985 in Ottumwa, Iowa to Kenneth Edward and Teresa Ann Bailey Hartman. He married Dorothy Fay DeHeer April 7, 2006 in Centerville, Iowa. Eric worked for Kauffman Building for ten years and rode bulls in Rodeos from 2003-2007. He was a member of the United Rodeo Association, Iowa Rodeo Cowboys Association and Bullriders of America. He enjoyed being outdoors hunting and fishing. More than anything, Eric loved spending time with his children. He was also a member of the Bethlehem Christian Church.

He is survived by his wife, Dorothy; son, Brayden Hartman; daughter, Alexis Hobbs; mother, Teresa (Bruce Ladely) of Bloomfield; father, Kenneth (Dianna) Hartman of Drakesville, Iowa; two sisters, Laura (Eric) Dabney of Lancaster, Missouri, Melissa (Howard Ludington) Hartman of Bloomfield; brother, Trinity Hartman of Bloomfield; step sister, Kelly (Gary) Caldwell of Newton, Iowa; three step-brothers, Brian (Mary) Utoft of Chandler, Arizona, Mark (Toni) Utoft of St. Charles, Illinois, Ben Utoft of Batavia, Iowa; grandmother, Gloria Bailey of Floris, Iowa; and several nieces, nephews, aunts, uncles, and cousins.

He was preceded in death by two grandfathers, John Bailey, Wilson Hartman; and great-grandmother, Lydia Heath.

Funeral services will be at 10:30 a.m. on Thursday, March 3, 2016 at the Wagler Funeral Home in Bloomfield with Pastor Richard Friend officiating. Burial will be at the Hartman Cemetery in Davis County. Visitation will begin at 9:00 a.m. on Wednesday with the family present to greet friends from 5-7:00 p.m. at the funeral home. A memorial has been established to his children.